Many people avoid Avocado because of its perceived high fat content. As a result of this misconception, many of its health benefits are also overlooked. The avocado is a treasure trove of nutrients. It has a high level of monounsaturated fats. Next to Olive, it is fruit with the highest levels of these fats.  These fats are good for the heart.  And they are most likely to be one of the major reasons behind the health benefits of olive oil. Avocado contains amounts that are almost 20 times that of any other fruit.
An NHANES study in the US found that people who eat avocados are much healthier than people who don't eat them. These people had a much higher nutrient intake and were half as likely to have metabolic syndrome. These symptoms are a major risk factor for Diabetes and heart disease. People who ate avocados often also had a lot less belly fat, to weigh less and had a lower Body Mass Index (BMI). In addition, they had more HDL cholesterol, which is the good form of cholesterol required by our bodies.
There are different kinds of avocado. They vary in shape from pear shaped to round, and also they also come in many colors ranging from black to green. Avocados weigh between 8 ounces and 3 pounds. The most popular kind being the Hass avocado, which is green in color and pear shaped with a bumpy skin. This has earned it the name alligator pear.  Remember that you only eat the yellow green flesh, and discard the seed and skin. This fruit is nutritious and has a many types of nutrients which include 20 different minerals and vitamins.
Nutritional Value of Avocado
The avocado is a treasure trove of nutrients. This fruit is valued for its nutrient content, and as a result, it is added to all sorts of dishes. It also has a good flavor and rich texture which improves the appeal and quality of many dishes and juices. Therefore, the avocado is now a highly popular food among health conscious people. In fact, the avocado often is referred to as a super food. This is because it is very nutritious.
In fact, a single serving, which is 5.3 ounces, contains 240 calories, 0.77 ounces of healthy fats, and 0.09 ounces of protein. It also has 0.4 ounces of carbohydrates of which 0.31 ounces are fiber, and 0.09 is carbohydrates. Avocado is a good source of Potassium, copper, fiber, vitamins B5, B6, C, E and vitamin K, pantothenic acid, and folate. It also has little amounts of vitamins, A B1, B2 and vitamin B3 and minerals such as Magnesium, Iron, Manganese, Phosphorous and Zinc. You can also add them to salads and many recipes, or eat them plain.
Health Benefits
Cardiovascular Health
Avocado is a good source of monounsaturated oleic acid.  This is a beneficial form of fat that reduces dangerous LDL cholesterol in the blood. It also increases the more beneficial HDL cholesterol. Eating avocado also decreases high blood triglyceride levels, another common factor of cardiovascular problems. The high fat in this fruit lowers the amount of fat in your blood. This means that all fats are not equal, and it is important to get enough good fats in order to stay healthy. Avocado also contains a rich variety of nutrients that are good for the heart. Vitamin E prevents cholesterol oxidation. The potassium regulates high blood pressure that may lead to both kidney problems and heart disease. The fruit is also a good source of folate, which reduces dangerous homocysteine levels in the blood.
Controls Blood Pressure and Blood Sugar
Avocados are rich in potassium, which is effective in controlling blood pressure. It also lowers the risk of heart disease, stroke and kidney disease. Lack of Potassium often leads to high blood pressure. It also increases the risk of other cardiovascular diseases. Potassium relaxes blood vessels, the arteries and capillaries. This reduces the chances of clotting, heart attacks, and strokes. The oleic acid and dietary fiber help to normalize blood sugar levels. This increases heart health and lowers the risk of diabetes.
Weight Loss
This fruit is low in sugar and high fiber, which helps you feel full for longer. People who eat avocado feel more satisfied and have lower desire to eat for many hours. This helps them consume fewer calories and makes it easier to follow a healthy diet. Fiber is an indigestible plant material. It reduces blood sugar spikes and contributes to weight loss. It is also strongly associated with a reduced risk of many diseases. In addition, the low carbohydrate content helps in promoting weight loss.
Help Boost Nutrient Absorption
When it comes to nutrients, the important thing is how much you absorb, and not the total amount. You need to be able to absorb the nutrients. This moves them from the digestive tract and into the blood and transported through the body . There are nutrients that are fat soluble. This means that combining them with fat is important to make them useful. Examples of this are vitamins A, D, E, K, and antioxidants such as carotenoids. It is proven that adding avocado or its oil in food, salad or juice can increase absorption of these essential nutrients by up to 400 percent. So, avocado is highly nutritious, and it boosts the nutrient value of other foods that you are eating.
Immune Booster
Avocados contain glutathione, a powerful antioxidant.  It supports the nervous system, slows aging and boosts the immune system. It is a good source of vitamin C, E, K, and antioxidants. These are powerful antioxidants that protect your body cells from damage caused by free radicals. The antioxidants combat the effects of the free radicals. These are the harmful waste of cellular metabolism. They are responsible for many serious conditions in the body. These include cancer, cardiovascular disease, cognitive disorders, premature aging, and much more.
Bone Health
Avocados contain carotenoids such as lutein and  zeaxanthin .  These contribute to reducing the risk of cartilage defects. Hence, eating avocado may help to reduce the risk of osteoarthritis.  Also, avocados have good amounts of important minerals. These include Phosphorous,copper, zinc, and little amounts of calcium and selenium. All of these contribute to lowering the risk of osteoporosis. They also improve bone mineral density.
Anti-Cancer
Avocados have high levels of anti-inflammatory and antioxidants agents. These compounds lower the risk of cancers.  Avocados also have monosaturated fat and antioxidants. These are powerful agents against cancer, and as a result, reduce the cancer risk. The fruit also contains Glutathione. This is a powerful antioxidant, which protects body cells from cancer, and the harmful effects of free radicals. Avocados cause cancerous cells to die.
Healthy Kidneys
Avocados are rich in potassium, which is effective in regulating the heart rate. It also controls fluid balance through the chemical channels for organs and cells. Balancing of fluid is important for the effective functioning of the kidney. Kidneys handle the movement of fluid and toxins through the body. Potassium also helps to reduce the loss of calcium through urine. This lowers the risk of stones forming in the kidneys.
Arthritis Treatment
Osteoarthritis disease affects millions of people worldwide. This is a painful condition characterized by joint inflammation and soreness. Avocados are rich anti-inflammatory elements. It has high levels of monounsaturated fats, phytosterols, omega 2 fatty acids, Phytochemicals, and antioxidants such as vitamin E, vitamin C and a variety of carotenoids. These help to minimize the inflammation that leads to arthritis. Avocados are one of the best foods for controlling the inflammation in tissues, muscles, and joints.
Smooth Digestion
Avocado aids in digestion. This is because the nutrients and enzymes minimize inflammation in the small intestine's mucous lining and in the stomach. This improves the ability to absorb carotenoids and other vital nutrients. It contains soluble and insoluble fibers. These keep the digestive system working well.  These two types of fiber are very important for digestion. This is because they increase the weight and size of the stool. They also ensure the smooth passage of food through the intestinal tract. In addition, they stimulate gastric and digestive juices. This leads to the rapid and efficient absorption of nutrients. Finally, they reduce the symptoms from conditions such as diarrhea and constipation.
Healthy Skin and Hair care
The healthy fats help treat psoriasis. They also protect the skin from wrinkles and other signs of aging. Vitamin C maintains skin elasticity and firmness. Vitamin E protects against photo-aging.  It rejuvenates skin that is damaged, chapped or dry. Avocados are added to many cosmetics because of their ability to nourish the skin with important vitamins and make it healthy. Avocado oil nourishes and repairs damaged hair. Using avocado to prepare skin and hair masks results in healthy skin and hair. Avocados contain organic compounds that are effective in improving the tone and health of your skin. They also clear signs of premature aging.
Eye Health
Avocados are rich in the antioxidant known as a carotenoid. This protects against oxidative stress damage. This is the main cause of age related macular degeneration, cataracts, and poor vision. These problems are often caused by free radicals. The carotenoids antioxidants fight against the free radicals.
Healthy Liver
Avocado is very good at protecting against liver damage. It has organic agents that help in improving your liver. Liver damage is often caused due to Hepatitis C. Avocados may play a big role in toning up, and protecting your liver from many conditions.
Dental and Oral Health
Avocados help in preventing bad breath and oral cancers. Bad breath is often caused by indigestion or an upset stomach. Improving digestive health corrects this problem. The antibacterial and antioxidant flavonoids also kill the bacteria in your mouth resulting in a better breath.
Prevention and Control of Diabetes
Avocados are rich in monounsaturated fats which help in improving insulin function and blood glucose levels. It is also beneficial for reducing high triglyceride levels. The oleic acid and dietary fiber help to normalize blood sugar levels. This improves heart health and lowers the risk of diabetes. Vitamin C is important for improving the immune function, and also, in strengthening blood vessels. In addition, the vitamin E lowers cholesterol oxidation that often leads to strokes and heart attack. It may also offer some protection from nerve damage to people suffering from diabetes. Potassium in avocados is an important nutritional factor for diabetics. This is because of its role in controlling blood sugar and maintaining a healthy heart.
Pregnancy Benefits
Avocado is rich in Folic acid or Folate, which is an important food for pregnant women. It is also good for those trying to conceive.  This water soluble B vitamin is essential for healthy cells and tissue development. It is much needed during periods of rapid cell division and growth like pregnancy and infancy. It can also protect against stroke.   Vitamin K is also beneficial to women during pregnancy and their unborn babies. Lack of Vitamin K causes infant bleeding. It is also known as VKDB. This is a continuous bleeding of newborn babies who lack enough of the vitamin K in their blood. Eating foods rich vitamin K during pregnancy can help pass more of it onto your unborn child.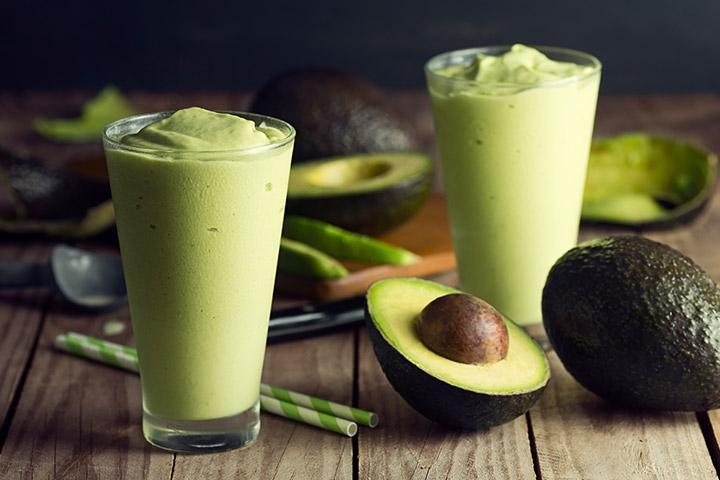 The avocado is a super food; it is miracle fruit that extremely nutritious. It is a rich source of many essential vitamins and minerals. It is a good source of Potassium, fiber, copper, and vitamins like vitamin C, vitamin E, vitamin K, vitamin B5, B6, and vitamin B9, and omega-3 fatty acids. It is healthy, delicious, and goes with all sorts of foods. You can eat them plain. You can also add them to salads and many recipes. Avocado has a rich, creamy texture and blend nicely with various other ingredients. Adding it to your salads and recipes helps you absorb more nutrients especially from other green vegetable sources. You can also use avocado in place of butter in some baked foods.  Finally, avocado oil is healthy and safe for cooking.